Good credit (670-739) opens the door to some fantastic credit card offers. Whether you're looking for cash back or low rates, compare the best offers from our partners and find the right card for you. For even more options be sure to check out our top credit cards for 2020.
---
Back to top
Editorial disclosure: All reviews are prepared by CreditCards.com staff. Opinions expressed therein are solely those of the reviewer and have not been reviewed or approved by any advertiser. The information, including card rates and fees, presented in the review is accurate as of the date of the review. Check the data at the top of this page and the bank's website for the most current information.
All information about Capital One® Quicksilver® Cash Rewards Credit Card, Capital One® Venture® Rewards Credit Card, Capital One® SavorOne® Cash Rewards Credit Card, Capital One® VentureOne® Rewards Credit Card, Wells Fargo Propel American Express® Credit Card have been collected independently by CreditCards.com and has not been reviewed by the issuer.
Comparing Credit Card Offers for Good Credit

Updated: April 21, 2020
Good credit is your reward for all those months of on-time payments and other terrific credit habits. However, one or two wrong steps can cause your score to drop quickly. That's why it's important to understand the nuances of credit and how good credit can reward all that hard work.
We analyzed more than 1,400 credit cards on where good credit is needed to get approved and evaluated them on such criteria as: rates and fees, rewards, redemption options, customer service, and other benefits. Below are our best cards for good credit along with factors to consider in your decision and tips to improve your credit score even more. Here, we look at:
Learn more about how to build credit and the benefits of good credit.
---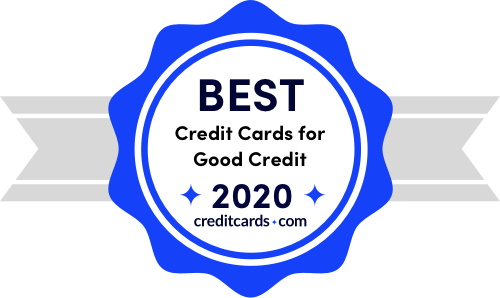 Best credit cards for good credit
The Discover it Cash Back is the best option among cards with good credit for cash back, with 5% cash back on rotating categories up to $1,500 spend a quarter (then it's 1% cash back) after activation and double your cash back at the end of your first year. Unfortunately, this card doesn't have much in the way of travel and shopping benefits.
The Blue Cash Everyday is a fine option as a long low intro APR card with the intro APR offer of 0% on purchases for 15 months as well as 0% on balance transfers for 15 months, then 12.99%-23.99% Variable. Its welcome offer and ongoing rewards are also worth a look. However, while American Express is broadly accepted in the U.S., not so much abroad.
The Propel offers some of the most compelling rewards value, despite not even charging an annual fee. It offers 3X points across a wide swath of categories that include gas stations, flights, hotels, rideshares, and other travel purchases, as well as dining. The sign-up bonus is also sizeable at 20,000 points and is awarded for spending $1,000 in the first 3 months – a $200 cash redemption value.
This card is very popular with people who have used a few credit cards and want to try a "next level" card. It offers a strong sign-up bonus of 60,000 Chase Ultimate Rewards points for spending $4,000 in your first 3 months. That's a lot of immediate value considering the relatively low annual fee of $95. Points can also be redeemed for 1.25X value through Chase's travel portal, and you can continue adding to your stash with 2X points per dollar on travel and dining purchases.
Another fairly straightforward credit card offer, the Capital One Quicksilver provides easy to understand benefits. Its largest value propositions are 1.5% cash back on all purchases, a $150 sign-up bonus (after spending $500 in first 3 months) that's easy to hit, and no annual fee. You'll also never have to worry about foreign transaction fees, making it a solid card to take on trips abroad.
Flexibility is king with the Venture Rewards – it has more than a dozen airline partners and an annual fee that is $95. For the traveler/shopper who is looking to spend and redeem in a variety of ways, the Venture Rewards card has beaucoup options.
You'll not only enjoy 3% cash back on dining and entertainment purchases, 2% back on groceries and 1% back on all other purchases, but also a 0% intro APR for 15 months on both balance transfers and new purchases ( 15.49% – 25.49% (Variable) after that), making it a great choice if you need to pay down debt or finance a large purchase but still want a card with serious long term rewards value. Plus, you can score a $150 sign-up bonus after spending just $500 in the first 3 months.
Not only does the Capital One VentureOne Rewards Credit Card have a serviceable sign-up bonus and ongoing rewards, there are no annual fee and no foreign transaction fees.
Summary of the Best Credit Cards for Good Credit
| Credit Card: | Best For | Reward Rate | Annual Fee | CreditCards.com Rating |
| --- | --- | --- | --- | --- |
| Discover it® Cash Back | Cash back | 5% in rotating categories* | $0 | 4.3 / 5 |
| Blue Cash Everyday® Card from American Express | Long low intro APR | 2% cash back at U.S. gas stations and select U.S. department stores | $0 | 3.9 / 5 |
| Wells Fargo Propel American Express® card | Rewards | 3X on dining, gas stations, and travel | $0 | 3.5 / 5 |
| Chase Sapphire Preferred® Card | Sign-up bonus | 2X on travel and dining | $95 | 3.9 / 5 |
| Capital One® Quicksilver® Cash Rewards Credit Card | Low fees | 1.5% cash back on every purchase | $0 | 3.4 / 5 |
| Capital One® Venture® Rewards Credit Card | Travel | 2 miles per dollar on all purchases | $95 | 4.2 / 5 |
| Capital One® SavorOne® Rewards Credit Card® | Dining | 3X on dining | $0 | 3.7 / 5 |
| Capital One® VentureOne® Rewards Credit Card | Low interest | 1.25 miles per dollar on all purchases | $0 | 3 / 5 |
* Enroll every quarter to activate 5% cash back on up to $1,500 in purchases per quarter
** 2X points per dollar on the first $6,000 supermarket/gas station purchases per year, 1X point thereafter
** 4X points per dollar spent at U.S. supermarkets on up to $25,000 in purchases per year
What is a good credit score?
A "good credit" FICO score is 670-739 out of a range of 300-850, with 850 as the best. With the same scale, a good VantageScore is 700-749.
With good credit, you can enjoy not only better lending products but lower insurance rates, improved rental options and even better job opportunities. With bad credit, higher interest rates, loan rejections and credit cards with inferior rewards can come your way.
Pay attention to your good credit, because within a month, your score can take a hit because of one misstep. In fact, it can take considerably less time to drop your score than to improve it. By paying on time and in full each month, you are addressing 65% of your FICO score.
Here are the score ranges for FICO, the dominant scoring model, and VantageScore, which you can access for free on creditcards.com.
What is the best credit score?
The best credit score you can have will fall into the "excellent credit" range. According to FICO, that means your credit score will fall between 800-850. With the Vantage scale, an excellent VantageScore is between 750-850. Having an excellent credit score means that you may have a better chance for approval when applying for loans or credit increases, and can put you in a more favorable position when applying for a luxury card, which offers superior benefits and rewards. Much like having a good credit score, being in the excellent range requires upkeep. It's imperative that you pay your balance off in full each month and make your payments on time in order to keep you score high.
Credit score ranges…
| FICO Category | FICO Score | VantageScore Category | VantageScore |
| --- | --- | --- | --- |
| Exceptional | 800-850 | Excellent | 750-850 |
| Very Good | 740-799 | Good | 700-749 |
| Good | 670-739 | Fair | 650-699 |
| Fair | 580-669 | Poor | 550-649 |
| Poor | 300-579 | Very Poor | 300-549 |
How your credit score can negatively impact your life
There are a surprising number of ways that a bad score can affect your world. From buying a house to renting an apartment, your options can open up or be limited depending on your score. Millennials are particularly vulnerable. When polled, 46% expressed concern that their score is holding them back, according to OppLoans research, a financial technology company.
Millennials who…
believe their score prevented them from buying a car
27%
applied and were turned down for a loan or line of credit
26%
still live with roommates because of bad credit
14%
feel they don't have the techniques to properly build credit
24%
feel that with a credit card their level of debt is unmanageable
15%
Source: OppLoans 2018 research
Cards for good credit often offer excellent rewards, can have superior balance transfer options and are great for building credit. Although cards for excellent credit offer more options, a variety of cards are available for good credit. Here are 3 types of cards, with cards for good credit and no annual fee.
Benefits and limitations of credit cards for good credit…
Not sure if a card for good credit is right for you? Here are the benefits and limitations of cards with good credit:
Benefits
Can qualify for many rewards cards
There's no security deposit, as with a secured card
Typically fewer fees than a card with bad credit; no annual fee cards usually require good credit
You can build credit
Rewards are excellent
Limitations
You won't qualify for some cards, which require excellent credit
You likely won't get a luxury card, which has superior rewards and benefits
An annual fee may be required if you want a card with superior rewards
While cards for good credit may be slightly more limited in choice than those for excellent credit, there are still some great options, as you can see.
Rewards by credit ranking…
| Card | Credit required | Rewards | Annual fee |
| --- | --- | --- | --- |
| Chase Sapphire Preferred | Good to excellent | 60,000 pts / $4,000 spend in 3 mths; 2X points for worldwide travel & restaurants | $95 |
| Capital One QuicksilverOne | Fair to good | 1.5% on all spending | $39 |
| Capital One Secured Mastercard | Bad to fair | None; refundable deposit required | $0 |
What determines good credit?
Good credit simply means that your score, generated by a scoring model, such as VantageScore or FICO, is high enough that you can benefit from better financial products. The scoring models look at several factors in an effort to ascertain whether you are a good credit risk. The higher your score, the less risk you are for the lender.
Here are the primary factors scoring models look at:
Paying on time. The most important aspect of your credit score is on-time payments. It makes up 35% of your FICO score, the score most used by lenders to assess your creditworthiness. One late payment can drop your score to the next range, although the older that late payment gets, the less impact it has. This category is also the most important factor for VantageScore, the scoring model developed by the 3 major credit bureaus: Experian, Equifax and TransUnion.
Paying in full. This category makes up 30% of your FICO score. It looks at the amount of credit you have available compared to the amount you owe. That's called yourutilization ratio.For example, if you owe $100 and you have $1,000 in available credit, your utilization ratio is 10% — you want the percentage as close to zero as possible. The amount of credit used is considered highly influential in the VantageScore model.
Credit history. How old are your accounts in your credit file with the 3 credit bureaus? This makes up 15% of your FICO credit score and it's highly influential with VantageScore.
Recent credit. Avoid applying for multiple credit cards at once, because that can negatively impact your score, although a single pull typically only impacts your score by about 5 points. Recent credit makes up 10% of your FICO score and falls under "less influential" on VantageScore. Note that rate shopping for installment loans within a short amount of time, which can range from 15-45 days, typically only counts as one credit check, because credit score models recognize that rate shopping is a good credit habit.
Credit mix. FICO likes it when you have different types of credit, such as revolving credit (cards) and installment credit (car loans and mortgages). It makes up 10% of your FICO score and is highly influential in VantageScore.
Available credit. VantageScore also has a category called "available credit" that is considered less influential. There is also a category called "total balances/debt" that falls under moderately influential.
How many people have good credit?
According to FICO data from credit bureau Experian, 21% of consumers have good credit, while 34% have bad or fair and 45% have very good or exceptional credit.
Why should I care about my credit score?
From dating to getting an apartment, it's almost impossible to function in today's world without credit, unless you live off the grid. Here are 7 reasons why you should care about your credit score:
Installment loans. The best known of credit score uses, your credit can impact not only your interest rate but even whether you can get a loan. Credit scores are used by lenders of mortgages, car loans, private student loans and other lending products.
Credit cards. The credit cards with the richest offers typically require good or excellent credit. For example, you can get a rewarding cashback card with no annual fee if your credit is good or excellent.
Apartments. Increasingly, landlords are looking at potential renters' credit before making a call on accepting a lease application. If you have good credit, you are that much more likely to be accepted.
Insurance premiums. According to Insurance.com,homeowners with bad credit pay 122% more than people with good credit. So, your home insurance premium can be affected by your credit.
Cellphone. Your cellphone provider may run a background check to ensure you can meet your obligations.
Employment. Employers are increasingly running background credit checks prior to offering a job. Employers access a different report from that of lenders, and they don't have access to your score. Also, they have to have your approval to pull a report.
Dating prospects. When asked if a credit score could make you think twice about dating someone, 35% of men and 50% of women said yes, according to a Bankrate poll commissioned in May 2017.
What should I look for in a credit card if I have good credit?
Having good credit unlocks a whole new world of options when it comes to the credit cards you can get. "Consumers with good credit are in an excellent position to earn lucrative credit card sign-up bonuses and rewards for ongoing spending. Many of the best cash back cards are targeted at people with good credit," points out Ted Rossman, CreditCards.com industry analyst.
From generous sign-up bonuses to great balance transfer offers, cards for good credit abound. Compare the cards you are interested in to decide which has the best options for you. Look at:
Types of cards. With good credit, your options open up tremendously. You can earn 2%, 3%, even 5% back with a cashback card, or earn points or miles in the 10s of thousands in a travel card's sign-up bonus.
Sign-up bonus. Compare the sign-up bonuses for the cards you are looking at. But be sure to compare apples with apples. For example, is there an annual fee? And what is the actual valuation of the points or miles?
As Rossman advises: "When comparing options, think about how you spend most of your money and how you want to redeem your rewards. Look to maximize key categories like groceries, travel and dining out."
Comparing sign-up bonuses…
| Card | Annual fee | Sign-up bonus | Point valuation |
| --- | --- | --- | --- |
| Capital One Venture Rewards | $95 | 50,000 miles/$3,000 spend in 3 mths | 1:1 |
| Capital One VentureOne Rewards | $0 | 20,000 miles/$1,000 spend in 3 mths | 1:1 |
Ongoing rewards. Study the points, cash back or miles you would earn when you make purchases on your card.
Benefits. Cards that require good or excellent credit often offer benefits such as rental car insurance, free luggage and even annual airline credits.
Interest rates. If your priority for your next credit card is a low interest rate, your good credit will help with that. There are a few low-interest cards out there and a number of 0% intro APR offers.
Balance transfer. If you need to transfer a balance to a 0% intro APR, look at the length of the offer, and see if you can pay off the debt before the offer ends. Here are 2 that require good credit and have no annual fee:
Comparing interest rates…
Card
Offer
Go-to rate
Features
The Amex EveryDay® Credit Card from American Express†
Intro 

0% on purchases for 15 months

 and 

0% on balance transfers for 15 months

12.99%-23.99% Variable

10,000 points bonus/$1,000 spend in 3 mths; no BT fee within first 60 days; 2X points at U.S. supermarkets up to $6,000
Discover it Cash Back

0% for 14 months

, BT & purchases

11.99% – 22.99% Variable

Enroll every quarter to earn 5% cash back on up to $1,500 in purchases made in rotating categories throughout the year (before moving to 1%); match cash back at end of first year
How to build and maintain a good credit score
A surprising number of Americans misunderstand what it takes to build a good credit score. In one Bankrate poll, consumers were asked some key questions about their beliefs regarding credit building, and many didn't realize that high card balances can negatively impact your score; you want as close to 0% as possible in your debt-to-balance ratio; and you want to keep the account active with a charge that you pay off each month.
Consumers' misconceptions of building credit…
Believe accounts with high balances help credit
51%
Believe you have to carry a balance to improve credit
37%
Believe having a short credit history helps your score
13%
Source: Bankrate Money Pulse survey
How to build good credit
Building good credit takes patience and determination, but even the thinnest of files can be improved within a few months.
The easiest and fastest way to build credit is with a credit card – but it's important to make sure you use it responsibly. That means paying in full and on time each month. Here are some tips on how to build good credit:
Check your credit score. You'll need this for the next step.
Apply for a credit card. Only apply for one, and make sure it's one that you have a good chance of getting. You may need to get a secured card, which means you pay a refundable deposit in exchange for a credit limit. Make sure the card issuer will share your credit habits with the credit bureaus.
Pay in full and on time. This is 65% of your FICO score.
Become an authorized user. If your credit is too poor for landing a card or you don't trust yourself with one, look into being an authorized user with a cardholder who is responsible with credit. You won't have to use the card to build credit, and you won't be responsible for the debt. Eventually, you'll want to get your own card, though, so that you can withdraw from being an authorized user without losing credit ground. Keep in mind that when you withdraw, the authorized card's good habits are withdrawn from your credit accounts. That's why you'll want to get your own card at some point.
Take out a credit-builder loan. To give your score that extra little boost, take out an installment loan, such as a car loan or a credit-builder loan. Don't take out more than you can afford.
How to maintain good credit
In some ways, maintaining good credit is more difficult than building because one false step can drive your score down to the next tier. Here are a few tips for maintaining your credit:
Make reminders. You know you need to pay on time and in full each month. Now, set up a reminder so that you remember to pay by the due dates each and every month.
Make a small payment. Even if you don't use a card much, make a small payment each month to keep the account active.
Don't close accounts. There are a few exceptions to this, but typically it's a good idea to keep accounts open and active because available credit with a low balance helps your score, and when you close an account, your aggregate available credit goes down.
Keep a budget. Allowing for saving and fun, maintain a workable budget to ensure you don't overspend on your credit card.
How long does it take to build good credit?
It typically takes at least 6 months of credit activity before a credit score can be calculated, according to credit scoring expert Barry Paperno.
You need at least one credit account to have a credit file. When you don't have much credit to speak of, that's called having a thin file. With good habits (pay on time and in full each month), you can build your credit score within months.
Rebuilding? It can take anywhere from a few months to years, depending on what's on your credit file. Large debts, collections, bankruptcies – all of those weigh more heavily than one or two late payments.
Here's how to rebuild good credit:
Check your credit files. Look for collections, unpaid bills and other issues that can be cleared up. Contact the credit bureaus to correct any inaccuracies. Quickly resolve any problems with creditors, and get in writing that they will contact the credit bureaus with the resolution.
Catch up. Your payment history is the most important aspect of your credit, so it's critical to catch up with any payments and stay on top of them.
Reduce your card balances. The second most important aspect of your credit score is the debt-to-balance ratio, called your utilization ratio. That's why it's so important to keep your balances low.
How to improve from good credit to excellent credit
The difference between good and excellent credit can be the difference between good and great rewards, nice and amazing balance transfer offers, and pretty great and outstanding benefits. You can also get better interest rates, lower insurance rates and other financial advantages.
Once your score hits about 750, know that things start to slow down in terms of score improvement. But there are a few tricks to help your score achieve its best. Here, we look at a few quick tips for maximizing your score and landing an 800 or better.
Pay on time. If you have good credit, you are likely already paying in full and on time. Keep it up!
Don't close your old cards. This allows you to continue to have high available credit and to keep building your long-term credit. Put a small charge on them each month, paying them off each month.
Take out an installment loan. Installment loans include mortgages, car loans and some credit-builder loans. While you don't want to incur unnecessary debt, a small installment loan can give your credit score a little nudge.
Avoid taking out multiple cards at once. Stay steady and don't apply for multiple credit cards at once. While a small part of your credit score, applications can drop it to the next tier in a worst-case scenario. One card application can affect your score by about 5 points, whether you are accepted or not.
Plan taking out credit. If you know you want to, say, apply for a mortgage soon, keep things low key for several months by not suddenly taking out a card or incurring new debt. Lenders can see sudden changes in your financial habits as a warning sign that you are desperate.
Be patient. One element of credit building is time spent building that credit. That's a big reason why a cardholder with great credit habits might have a lower score than a consumer with great credit habits and more years as a card user.
What to do when you have excellent credit
Superior credit opens up the possibilities in terms of better rates and saved money. Once you have excellent credit, there are a few things you'll want to take care of:
Ask for lower rates, higher credit limits. A CreditCards.com poll found that of those who asked, 85% of consumers who asked got an improved credit limit. Of those asking for a lower interest rate, 56% received one. So, it's worth a try.
Upgrade to better credit cards. With excellent credit, you can get improved benefits and richer rewards.
Do a loan and insurance premium checkup. Have your loan officer and insurance agent run the numbers again, because chances are, you qualify for a better rate.
Methodology: How we chose the best credit cards for good credit
Credit cards for good credit analyzed: 1,478
Criteria used: Credit needed, rewards rates, rewards categories, sign-up bonuses, redemptions, customer service, ability to move credit line, credit score tracking, annual fee, other rates and fees, application process, other benefits and features