Credit cards for fair credit include a variety of options including cards that offer rewards like cash back and bonus points. Finding the right card can help you continue to build your credit history and improve your credit score. Here are our best credit cards for fair credit.
---
Back to top
Editorial disclosure: All reviews are prepared by CreditCards.com staff. Opinions expressed therein are solely those of the reviewer and have not been reviewed or approved by any advertiser. The information, including card rates and fees, presented in the review is accurate as of the date of the review. Check the data at the top of this page and the bank's website for the most current information.
All information about Capital One® Platinum Credit Card and Capital One® QuicksilverOne® Cash Rewards Credit Card have been collected independently by CreditCards.com and has not been reviewed by the issuer.
---
A Guide to Finding the Best Credit Card for Fair Credit
Updated: April 22, 2020
Fair credit may not be the best of credit, but there's hope. And you're not alone: 61% of consumers have fair credit or better with VantageScore, and 38% have fair. With fair credit, you can build your score, earn some rewards and develop good financial habits.
We researched and analyzed over 160 credit cards designed for people in the fair credit range and evaluated them against several different criteria: rates and fees, rewards, customer service, ability to improve credit lines, and more. Below are our top picks and several tips to help you decide and improve your credit for the future. Here, we look at:
Not sure what to expect? We'll share how to build credit and how to maximize your fair credit card.
---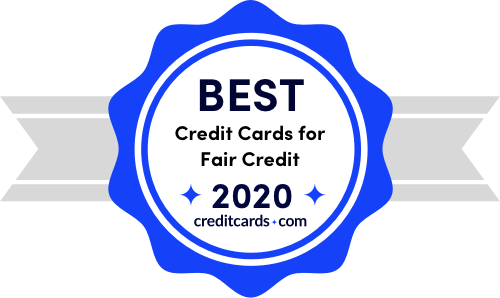 Best credit cards for fair credit
Capital One® Platinum Credit Card
Why this is the best credit card for fair/average credit with no annual fee
When building your credit, the last thing you want to think about is forking over a hefty annual fee. The Capital One Platinum Credit Card gives you tools that can help improve your credit score with responsible use – and as a plus, there's no annual fee to worry about.
Pros
It charges no annual fee and offers great perks like free credit monitoring and a chance at a higher limit after you make your first 5 monthly payments on time.
Cons
The card's initial credit limit is low for most new cardholders (starting at just $300), so you'll have to watch your spending to keep your credit utilization in check.
Capital One® QuicksilverOne® Cash Rewards Credit Card
Why this is the best credit card for fair/average credit with flat-rate rewards
Earning unlimited cash back rewards while strengthening your credit makes this our pick for the best credit card for fair/average credit for flat-rate rewards.
Pros
You'll earn consistent 1.5% cash back on all purchases, with no need to juggle rotating rewards categories or track spending. Plus, you could get a credit limit increase after your first 5 months of on-time payments.
Cons
The $39 annual fee will cut into your cash back earnings and the card's APR is very high at 26.99% (Variable), making it a risky choice should you need to carry a balance.
Credit One Bank® Platinum Rewards Visa
Why this is the best credit card for fair/average credit for rewards
This card offers a practical, simple and straightforward structure that gives people with less-than-perfect credit the opportunity to earn generous cash back rewards and benefits.
Pros
Earn 5% cash back on the first $5,000 of eligible gas, grocery, internet, cable, satellite TV, and mobile phone service purchases each year – that means you could earn $250 for the year. It's 1% back after that.
Cons
The regular APR is one of the highest around, at 23.99% Variable. Also, there is no welcome bonus. Finally, this card's $95 annual fee puts a dent on any rewards you earn.
Indigo® Platinum Mastercard®
Why this is the best credit card for fair/average credit for fraud protection
When it comes to your personal finances, peace of mind is extremely important. The Indigo Platinum Mastercard can help you breathe easier with fraud protection if your card happens to be stolen or misplaced.
Pros
You've got a good chance at approval, even if you've been through a credit disaster like bankruptcy. And since it's an unsecured card, you won't have to put down any money up front.
Cons
You won't earn any rewards from using the card and its annual fee could run you anywhere from $0-$99 after the first year (see terms). Plus, Indigo doesn't specify when or if you can qualify for a higher credit limit.
Discover it® Student Cash Back
Why this is the best credit card for fair/average credit for college students
Earning extra cash for being responsible with your credit card is one of this card's most valuable benefits. With a high rewards structure, you'll earn cashback for the things you purchase everyday, like grocery stores, restaurants, gas stations, select rideshares and online shopping.
Pros
You'll be raking in the rewards while building credit thanks to this card's terrific rewards rate and low fees. Even better, Discover will match all the cash back you've earned at the end of your first year.
Cons
The card needs upkeep: You must enroll in the rotating bonus category every quarter to earn 5% cash back (on up to $1,500 in purchases, then 1%). And though its standard variable purchase APR is typically lower than that of most competitors (12.99% – 21.99% Variable after 6 months of account opening), a 0% introductory APR on new purchases (for first 6 months) could be risky for inexperienced cardholders.
Credit One Bank® Visa® Credit Card
Why this is the best credit card for fair/average credit for cash back rewards
It's tough to find a credit card designed for credit-builders that offers any sort of cash back rewards program, much less one so straightforward. You'll earn 1% cash back rewards on eligible purchases of gas, groceries and mobile phone, internet, cable and satellite TV services. Getting cash back in such practical categories should help you offset the card's annual fee at least a bit.
Pros
Not only is it an unsecured card – meaning you won't have to put down any money up front as a deposit – you may be able to increase your credit limit over time with responsible use. Plus, the card comes with credit-building tools like free online access to your Experian credit score and the option to set up alerts to ensure you keep up with payments and avoid late fees.
Cons
While it's a decent option if you've had a few financial stumbles and are looking to get your credit back on track with an unsecured card, it could cost you. The Credit One Bank Visa charges an annual fee of $0 – $99 depending on your credit history, along with annual charges for adding authorized users and a fee for using the card abroad.
Deserve® EDU Mastercard for Students
Why this is the best credit card for fair/average credit with Amazon Student Prime
One of the most helpful features of the Deserve EDU Mastercard for Students is that you can get Amazon Student Prime for one year (a $59 lifetime value), and that's complimentary.
Pros
This card has a number of excellent features, including cellphone protection, extended warranty, and even Mastercard Platinum benefits. There's also no annual fee, which is helpful if you are on a budget.
Cons
The regular APR is quite high at 18.74% Variable. Also, at 1% cash back on all purchases, you can likely find a better cash back offer, even with fair credit.
Discover it® Student chrome
Why this is the best credit card for fair/average credit for cash back for students
With this card, you'll earn cash back rewards for the purchases you make every day. Plus, Discover offers a $20 statement credit for student cardholders who have a GPA of 3.0 or higher during a school year (5-year limit).
Pros
Students can start their credit journey off right with an intro purchase APR of 0% for 6 months, 12.99% – 21.99% Variable thereafter, cash back rewards and financial management tools.
Cons
You can't check if you pre-qualify online, and you'll have to keep up with the rotating categories in order to maximize your rewards.
Discover it® Secured
Why this is the best fair/average credit credit card for cash back
If you're looking for a way to strengthen your credit while earning high cash back rewards, this may be the perfect card for you. With no annual fee and the ability to build a credit history, this card could bring a lot of value to your credit health.
Pros
Rarely does a secured card compete with the top cash back cards on the market. Not only will you earn true cash back and a great first-year bonus, you may have a chance to upgrade to an unsecured card after 8 months.
Cons
You can't see if you pre-qualify before you apply, so your credit score could take a hit if you're not approved.
Avant Credit Card
Why this is the best credit card for fair/average credit with no deposit required
Some fair/average credit cards tack on a hefty deposit and large annual fees, but the Avant Credit Card carries a modest fee of $39 and doesn't require a deposit. This card may be one worth considering if you need to build credit but don't want to put down a lot of money up front.
Pros
With the fast and easy application process, you won't be waiting around wondering if you have pre-qualified or not.
Cons
The card comes with a very high APR of 25.99% (variable) regardless of your credit score. And though accounts may be reviewed periodically for credit line increases, there's no set timeline for getting a higher limit.
Comparing the best credit cards for fair credit
Best For:
Average Credit Card
Annual Fee
No Annual Fee
Capital One® Platinum Credit Card

$0

Flat-Rate Rewards
Capital One® QuicksilverOne® Cash Rewards Credit Card

$39

Rewards
Credit One Bank® Platinum Rewards Visa

$95

Fraud Protection
Indigo® Platinum Mastercard®

$0-$99

*
College Students
Discover it® Student Cash Back

$0

Cash back rewards
Credit One Bank® Visa® Credit Card

$0 – $99

Amazon Student Prime
Deserve® EDU Mastercard for Students

$0

Student Cash Back
Discover it® Student chrome

$0

Cash back
Discover it® Secured

$0

No Deposit Required
Avant Credit Card

$39
Research methodology
Credit cards analyzed: 161
Criteria used: Credit needed, tools to track credit score, ability to improve credit line, rewards rate, rewards categories, sign-up bonuses, redemption options, promotional 0% APR periods, annual fee, other rates and fees, extra features and benefits, customer service, ease of application
What is fair/average credit?
Fair credit and average credit are largely synonymous, and refer to the FICO credit scores between 580 and 669. Alternatively, fair/average credit can refer to VantageScore between 601 and 660. FICO and VantageScore are the two major credit scores in the United States. FICO was the creator of the first credit score, and is still the most widely used score today. Both scores range from 300 to 850.
FICO score ranges
| Range | Category |
| --- | --- |
| 300-579 | Very poor |
| 580-669 | Fair |
| 670-739 | Good |
| 740-799 | Very good |
| 800-850 | Exceptional |
VantageScore ranges
| Range | Category |
| --- | --- |
| 300-499 | Very poor |
| 500-600 | Poor |
| 601-660 | Fair |
| 661-780 | Good |
| 781-850 | Excellent |
What impacts your credit score?
You may be surprised to learn that your marital status and age don't impact your credit score, and you're not alone if you thought that. VantageScore and the Consumer Federation of America found in a poll they commissioned in 2018 that about two-fifths of consumers wrongly believe that marital status and age affect their scores, and the misunderstanding is even higher with other events.
Consumers wrongly believe these events affect credit score…
Age
41%
Marital status
38%
Tax liens
64%
Medical collections less than 6 months old
62%
Civil judgments
63%
Consumer Federation of America poll
As you can see, there are a number of events that don't affect your score. But what does? It's actually late payments, bankruptcies and high balances on credit cards that impact your score, we've found. According to FICO, credit scores are based on the following factors, along with the percentage of importance to your score:
Payment history: 35 percent – If you make a payment 30 days past the due date or later, it will most likely appear on your credit report. The later the payment, the worse the impact on your credit score.
Amounts owed: 30 percent – The less available credit you are using, the higher your credit score will be.
Length of credit history: 15 percent – This refers to the average account age of your accounts and the age of your newest account, which gets younger each time you open a new account.
New credit: 10 percent – Each time you apply for a new credit card or loan, a hard inquiry will hit your credit.
Credit mix: 10 percent – Having several types of loans – such as a car loan, a mortgage and a credit card – can help your credit.
As this shows, the most important things you can do to improve your credit are making payments on time and making payments in full. To view your current credit score for free and without impacting your score, check out our app.
Is a fair credit score good?
Simply put: No. In the FICO score, it is a below-average score. Since credit offers are based on creditworthiness, people with fair credit get below-average offers.
But if you have fair credit, all hope is not lost. While lenders typically prefer credit scores to fall in the good to excellent range, people with fair credit scores are still considered viable applicants for many loans. Additionally, with some work, persistence and responsible credit usage, you can improve your credit score.
Common ways that consumers improve their credit ratings are by contacting the major credit bureaus (Experian, Equifax and TransUnion) and asking them to remove reporting errors, paying down credit card balances and paying off accounts that have been placed in collections. Another tactic is to ask for an increased credit limit on your credit cards. For people who carry credit card balances, an increased credit limit lowers the credit-to-debt ratio, a key factor in credit scoring.
Although credit scores can be improved in a few weeks, most improvements take months and some take years. It may take some time before you qualify for the very best credit card offers, but there are plenty of good options for fair credit in the meantime.
By increasing your credit score, you will have access to better financial opportunities, such as lower interest rates and better credit card offers. To see what credit card offers are available to you, check out our CardMatch tool or review our list of fair credit cards and cards for those with no credit history.
---
Check for and report errors on your credit reports
Breaches are a top reason for checking those credit reports, and for good reason. We found in our recent data breach poll that Americans are more worried about identity theft than home burglaries. Some 46% said having their identity stolen would be worse, while 27% said a home break-in would be worse. And as consumers age, the spread is greater, with a 6-point difference for millennials and a 32-point difference for Baby Boomers.
But for all that fear, consumers are not protecting their data: Some 92% of U.S. adults have been guilty of at least one risky data security behavior within the past year.
What should you do? Besides varying your passwords (which 82% of consumers fail to do, it turns out), regularly check your credit files for mistakes. Notify the credit bureaus of any errors you find, no matter how small, because even a little one can be a sign that you're a victim of fraud, and that can ultimately impact your score.
---
Are there credit cards for fair/average credit with instant approval?
Yes, there are cards that offer instant approval, even if you have fair/average credit. Instant approval cards can be a great way to learn within minutes if you are conditionally accepted as a cardmember. Just keep in mind that an instant approval isn't a guarantee that you will be granted the card- a more thorough check of your file will be conducted if you are allowed conditional approval. Plus, whether or not you can get approved or denied right away is based on if the company can verify your identity. In the case that your identity cannot be easily identified, the application process could take a few days. Focusing on cards that fit within your credit range is crucial to your financial health, and using the card responsibly is the key to strengthening your credit. Check out our list of the top instant approval cards to see if any are a good option for you.
What do I do if I'm rejected for a credit card?
If your hopes of landing a credit card of your dreams have been dashed, we can help. By taking the right steps, you can recover and get the card you want and need.
1. Get the explanation from the issuer
Issuers are required to explain to you why you were rejected. You might find out online, by phone or by mail – no matter which way, read the issuer's feedback, then rectify the situation.
2. Check your credit score and credit reports
In general, it's a good idea to check your credit reports several times a year. You can check them for free once a year at AnnualCreditReport.com. If you've been rejected by a card issuer, make a point of checking your credit files to make sure there are no errors or omissions.
3. Look at a credit-builder loan with your credit union
If your credit files are too weak for even a basic secured card, talk to your local credit union about getting a credit-builder loan. These loans are designed for improving your credit rather than getting money for a home improvement or car.
4. Catch up on your bills
Payment history has the biggest impact on your credit score. If you are behind on any bills, you should call the creditor and arrange to pay the past due amounts. After making your payments, you can request that the creditor rescind any reported delinquencies so they will no longer show up on your credit report. While this may be the slowest step, it is essential to improving your credit score. Finally, your more recent activity weighs more heavily, so those on-time payments are priceless.
5. Don't close accounts
If you already have cards, don't close them. Instead pay them down and keep using them. Why? Because your payment history remains on your credit files for several years, good or bad, so you aren't protecting your credit just by closing the account. In fact, the available credit on your cards helps your file, as does continuing to pay on time.
6. Wait several months
Wait several months before applying for a card again. Too many card applications too close together can mean desperation to a lender. Also, this gives your score a chance to improve.
7. Apply for a card you are reasonably sure you will get
In this case, don't reach for the stars. Instead, choose a card to apply for that you are pretty sure you can get. If you are unable to qualify for an unsecured card, try a secured card to help build your credit.
Average lines of credit
You may have dreams of getting a nice fat credit line with that new credit card, but if your credit isn't its best, you might be unpleasantly surprised.
The averages for new lines of credit are typically lower than all lines, with super prime (VantageScore's excellent range) new accounts at $10,060, prime (good) at $5,806 and subprime (poor) at $2,701. These figures are from the American Bankers Association's Q2 2019 Credit Card Market Monitor. The averages for credit lines for all credit cards have risen somewhat for consumers with prime and subprime credit. Here are the figures for lines of credit for all credit cards.
Card lines of credit by credit band…
Super prime
$11,819
Prime
$7,809
Sub prime
$3,896
Source: ABA Q3 2019 Credit Card Market Monitor
How fast can credit improve?
The length of time it takes to improve your credit depends on the details of your financial situation. Along with your credit behavior, your starting score is a major factor.
For example, if you have no credit history, it will take a minimum of six months to establish a credit score. Credit score formulas require an active credit account to be present for at least six months before a score is generated.
If you are repairing damaged credit, however, it can take much longer to up your score. A person who only qualifies for a secured card, for example, can generally improve to fair credit within 12 to 18 months – with responsible card usage, of course.
While some people need to repair minor infractions, others have major issues to recover from. According to VantageScore, here are the approximate lengths of time it takes to repair credit based on your actions:
| Action | Avg. Recovery Time | Credit Score Impact |
| --- | --- | --- |
| Applying for Credit | 3 months | Minor |
| Closing an Account | 3 months | Minor |
| Maxing Out a Credit Card | 3 months | Moderate |
| Missing Payment / Default | 18 months | Significant |
| Bankruptcy | 6+ years | Significant |
What affects your credit?
There are a number of factors affecting your credit, and VantageScore has identified which ones are more important than others. What makes one factor more important than another and what can you do about it? It has to do with how lenders see the behavior. Here are behaviors, how lenders view them and how much impact they have on your credit:
| Behavior | How lenders view this | Impact on your score |
| --- | --- | --- |
| Pay bills on time | Wisely handling debt | Improvement |
| Not use all available credit | Sufficient access to credit, unlikely to need additional funds | Improvement |
| Hold accounts for long periods | Experienced credit user | Improvement |
| Use different types of loan products | Experience with different types of repayment requirements | Improvement |
| Inquire about or take out new loans | Are you just expanding access or taking on too much? | Slight drop |
| Max out credit cards or make first late payment | Potential signal of increasing risk | Drop |
| Pay multiple loans late; miss 3 or more payments | All credit at risk | Larger drop |
| Stop paying loan; foreclosure | Default | Major drop |
| Bankruptcy | Default | Maximum drop over extended time period |
How consumers with fair credit should use a credit card
When applying for a fair or average credit card, it is important to keep the goal of improving your credit in mind. Here are a few tips on how to properly use a fair credit card:
Use your card to build credit. The most important aspect of using a card that requires fair or average credit is that you can build your credit with it, which will grant you access to better lending products.
Keep your utilization ratio low. People with fair credit tend to have cards with low credit limits. To keep your balances low and avoid increasing your credit utilization ratio, making small, multiple payments throughout the month.
Look for a card without an annual fee. By taking out a card with no annual fee, you minimize the costs incurred with card membership.
Practice with rewards. Cards for fair or average cards will sometimes have rewards, such as 1% back on all purchases. This is a good way to practice for getting a rewards card down the road. Make sure you don't carry a balance, because interest charges will negate your rewards.
Don't close your old card. Once your credit score has risen to the point that you can apply for a better card, don't close or stop using your card for fair credit. By continuing to use it, as least for small charges, you keep the account active, continuing to build credit with it, and you increase your available credit.